Happy Monday!
This is the happiest Monday of my life. Ok that might be a little dramatic, but it's definitely one of the happier ones.
Why?
It's been almost six months since I quit my full time job, and I'm FINALLY starting to recover from my joy-sucking Weekend Productivity Complex! HALLELUJAH!
Weekend Productivity Complex is a term I just made up, but my guess is that you can proably relate to the symptoms, especially if you have a full time job and/or a family.
Symptoms of Weekend Productivity Complex
-Living for the weekend, and placing enormous pressure on jam packing fun + productivity into each Saturday and Sunday.
-Saving big projects, errands, to-do's for the weekend when "you have time"….
-....but then feeling overwhelmed and stressed out all weekend, trying to get everything done and still relax.
-Measuring success and accomplishment by the number of things you check off the list, and feeling like you failed if you don't get everything done.
-Feeling jealous or resentful when you see other people posting about their weekend accomplishments or fun.
-Experiencing anxiety and stress every Sunday night because the weekend is ending and you don't feel fully rested and prepared to return to "the grind."
-Overwhelming yourself so completely that you shut down and can't do anything at all.
-Feeling guilty when you take a personal day and spend all day as a lazy bum on the couch.
-Feeling like you "don't have time" to do things that support your mental and spiritual wellbeing, such as going to church and staying for coffee hour, or spending an afternoon at a museum or park.
-Never ever feeling like you have enough time to get "it all" done.
-Existing in a perpetual state of restless anxiety because you never take an actual break to recharge.
-Checking emails and social media compulsively even when you're not on the job.
Can you relate to any of that?

It sounds really depressing, doesn't it? But that is the reality I've been living with every. single. weekend. for the past two years.
Well, enough with that crap! Especially since I'm not working a full time job plus two side jobs anymore. I mean, Sunday night blues when I literally GET TO CREATE MY OWN SCHEDULE???!!! Any day could be a Friday if I want it to be. Days of the week have no more meaning when you're self employed. I deserve to be able to take a weekend off. Boom. You have no idea how hard it's been for me to accept that I DESERVE to take time off, and that "the vision" and all the people who "depend on me" are not going to die if I don't check my Facebook feed or emails for a day.
So this past weekend I decided to do something terrifying: establish AND RESPECT work/life boundaries. Oh my gosh, so much easier said than done, but I'm trusting that my vision and clients and coaches aren't gonna die if I only check in with them during normal working hours.
I don't want to feel like my life is controlled by my to-do list and productivity, so this weekend I decided not to worry about it at all and just live my life based on how I wanted to feel! Content, peaceful, joyful, fulfilled. I decided to actually honor my top priorities: faith and family.
IT WAS SO AMAZING YOU GUYS!!!! I've never been this proud of myself. I ended up accomplishing things that have been weighing on my heart for months, and I spent my time nurturing relationships with the people who matter most to me.
Saturday morning I actually did a couple hours of work so that I could literally unplug on Sunday, but it was fun work--writing my coaching client newsletter and planning for my February accountability group!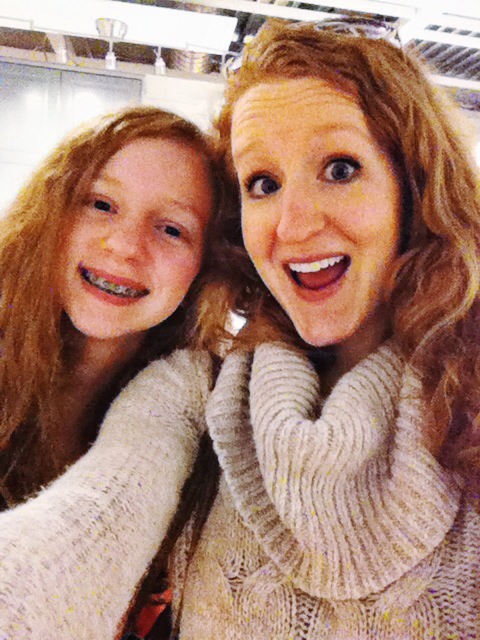 Then I spent most of the day at Ikea with my two sisters who came up to visit! We scoped out our dream kitchens, visited the cafeteria twice for sustenance, and bought copious amounts of candles, pretty lights, and fake plants. I've discovered that it's impossible to keep live Ikea plants alive. I'm just gonna blame the plants and the low light in our apartment, not myself...
Saturday night was date night. Ben and I headed downtown to River North (my fave date night neighborhood) and gorged ourselves on guac, margaritas, and tacos at Taco Joint! Taco Joint is my favorite taco place in the city, in my opinion even better (and less full of itself) than Big Star. I kept my phone put away and it was so nice to just relax and hang out. We're going on our first ever vacation (not counting honeymoon) to Mexico this April so we figured we should practice our cerveza drinking skills, obviously.
Sunday was the big challenge. I want to start observing a complete and total "day of rest" or SABBATH and unplug from the internet on Sundays. Scary! But so awesome.
What happens when you aren't constantly checking Facebook, Instagram, or getting sucked into the internet void? Here's what I discovered I could do.
+I went to Trader Joe's at 8 am and avoided the weekend rush
+I was the fellowship host at church and met new people! Becoming an active member of a faith community has been on my personal priority list for so long. Making it happen!
+I enjoyed grocery shopping and felt grateful we can afford healthy delicious food, instead of feeling rushed or guilty for spending money.
+I relaxed and enjoyed the process of cleaning the apartment instead of viewing it as a negative chore! Tip: If you dread doing something, find a way to make it fun! I listened to podcasts as I cleaned the floors, bathroom, kitchen. I value a clean and organized home, so it's important to spend time making it that way.
+I tackled a major pain/shame point and ORGANIZED THE FRIDGE!!!! This took like 30 minutes but every time I'm in the kitchen now I feel HAPPY instead of cluttered and stressed.
+I started to organize our extra bedroom/junk room because I want to create a workspace that is cozy, inspiring, and makes me happy to spend time in there.
+I took my first ever yoga class at Core Power Yoga!
+We ate leftovers for dinner instead of feeling pressured to cook something.
+I read two of my books, The Slight Edge (personal development) and Before You Know Kindness (fun fiction) and went to sleep feeling happy and complete.
This morning I woke up in a clean, cozy-fied home feeling rejuvenated and extra motivated to dive into the new week because I took two days OFF from obsessing over my to-do lists! I'm feeling excited to conquer the week instead of overwhelmed. Im' going to give it my best shot, stay focused, and do as much as I can while honoring my limits and personal wellbeing.
And did my businesses crash and burn while I was ignoring them? Nope. On the contrary. This morning I woke up to three Etsy sales and three new coaches in my Beachbody team.
Takeaways: if I stop trying to "be productive," I actually end up getting MORE done with less anxiety, and I live according to my values and priorities (faith, family, friends).
Less striving, more thriving. Less stress, more pursuit of happiness. Try it! Identify your top priorities and how you want to FEEL, and then set your actions and to-do's revolving around your values....not the other way around. If I can do it, you can too! We're worth it.
xo Anna
Do you struggle with the Weekend Productivity Complex?